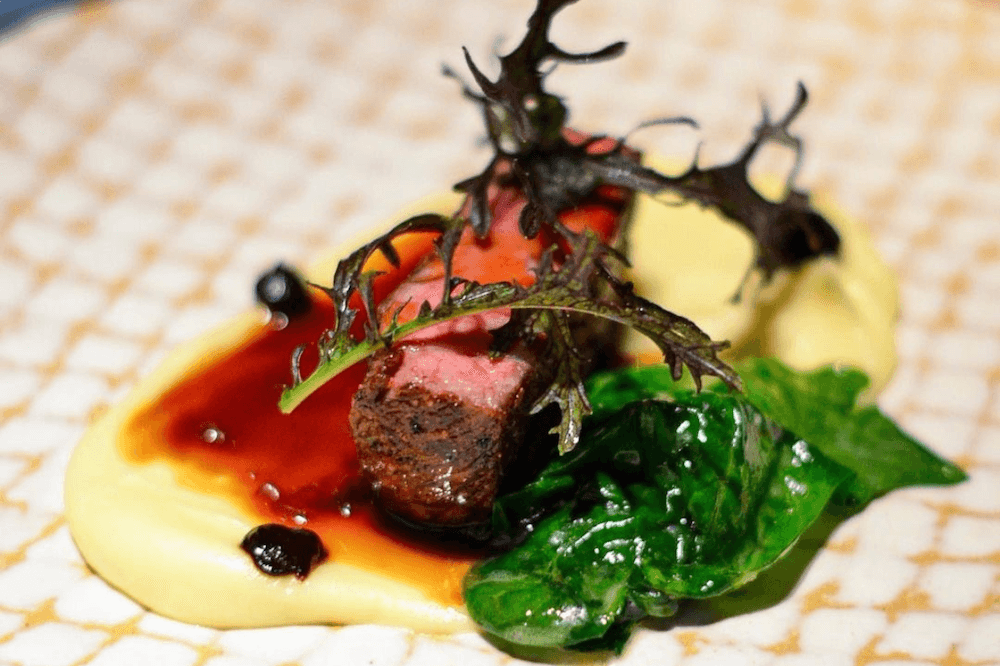 Ron Siegel was Executive Chef at Charles Nob Hill (1996-200), Masa's (2001-2005), the Dining Room and Parallel 37 at the Ritz-Carlton (2005-2012) and Michael Mina Restaurant (2012-2015) in San Francisco before crossing the Golden Gate Bridge to Marin County. He helmed Rancho Nicasio's Western Room before opening Madcap in San Anselmo with wife Kim in 2017. The couple describes the experience at their small 1,500-square-foot restaurant with 30 seats as "upscale dining in an intimate yet casual setting with an urban feel." Despite limited space, Siegel serves an ambitious tasting menu featuring "organic and farm raised products." 
Siegel frequently features Flannery Beef ribeye as Madcap's final savory course. A recent menu simply listed this course as "dry aged Flannery Beef ribeye, peppers." As Siegel says, "That's not a very big description, but it's so damn good, you don't need to describe anything. It's like you go to the Louvre and then the Mona Lisa is over there, you don't need to say any more."
Enjoy learning more about Siegel's connection to Flannery Beef and his opinions on steak.
How did you initially discover Flannery Beef?
We used to have a counter seat. Katie came in. I think she ordered the tasting menu and she introduced herself. I was like, "Oh, my God, I would love to carry your beef." And then Bryan is a good customer. He comes in with his wife.
We usually finish the meal with a piece of beef. Sometimes it can be pork or lamb or something, but mostly beef… People are very nitpicky with their beef, and I kept switching. I would go to American Wagyu and all these different vendors that I've used over the years… Bryan just makes sure he gets us what we want and people love it. I would say 99 out of 100 people love the beef, every time we put it up, and it's all the beef. Yes, we cook it, but it's the beef. It's very consistent. The marbling is very consistent. The aging is very consistent.
What makes Flannery beef such a good fit for what you're doing at Madcap?
The quality is top notch, I think, for domestic beef. It's a local business, Bryan and Katie, they're based out of San Rafael, and we like to support as many local business vendors as we can. 
What are the first three words that come to mind when you think of Flannery Beef?
Quality, consistency, flavor.
On your menu, you include "dry aged Flannery beef ribeye." Can you tell us about your preparation for the dish and how it changes seasonally?
It changes weekly a little bit. Today, we're tweaking a pepper mixture. We also serve with a Romesco that we make, but instead of using almonds, we use pistachios. We use a sweet and sour vinegar to go with that. And a little bit of tomato, peppers, onions and garlic. A couple days ago we were doing squash blossoms stuffed with morels and corn with the ribeye. Honestly we try to just mostly highlight the beef. We do very small amounts of vegetables and puree with that and just a little bit of sauce because I don't think it needs much. It honestly just needs salt. That's it.
How do you prepare the ribeye?
We sear it on a crazy hot plancha. So it's basically seared in cast iron. The guests ask, "How do you cook it like that? How do you get that crust?" The stove is so hot. We even leave half of it turned off because it's too hot. Water can't even sit in the pot. It's just really for searing.
What is your favorite steak to eat and why?
Honestly, it depends. I do love ribeye. I love the marbling and the fat. I mean, I love short ribs too, but that's not steak. 
How do you like to prepare your ribeye at home?
Lots and lots of salt. And then either in a hot, hot cast iron pan or on a grill.
And what drink are you pairing with it?
I would have red wine with it. You know, a very nice Pinot Noir, or even a Syrah would be great. I'm not a big Cab guy.
What are some tips that you have for people to nail a perfect steak at home?
One thing you could do is temper the meat. You could pull it out of the fridge and let it come to room temperature before you start searing. However you're doing it, whether it's in a cast iron pan or grill. At home, it's almost easier in a grill, if you get a really hot grill, because the mess can be devastating in your kitchen with grease splatter and everything else. 
Keep it simple and then have really good accompaniments. I like to season with just salt. If you really want pepper flavor, I would hit the pepper at the end, when it comes off, because it will keep it fresher.
Especially with Flannery meat, you don't have to marinate it. There's zero reason to marinate it. I do think that marinating meat, when you're going to throw it on a grill, is just asking for just a hard 15 minutes of cooking because you're dripping oil into a fire, so you're going to create more fire and then you're constantly flipping it. You could take it out of the marinade if you feel like you have to marinate it and then just pat it dry on paper towels, but I honestly think Flannery Beef has so much flavor. The aging process really gets rid of that excess moisture.