It takes a trained butcher's eye to make sure you're sourcing and slicing the best possible beef. You've already taken that all-important first step by buying the best cuts. To eliminate second guessing and to make the most of your menu at home, here are a few tips and takeaways.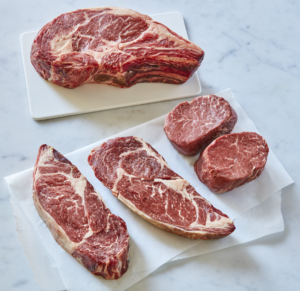 Choose a Cut
Selecting the right steak doesn't need to feel so intimidating or high-stakes.
How many people are you cooking for?
What's your ideal portion size per person?
Do you plan to eat family style or plate individual steaks? Presentation can make a big difference, especially with larger cuts like our "Jorge" Ribsteak or Dry Aged Mini Tomahawk.
Decide on the Cooking Method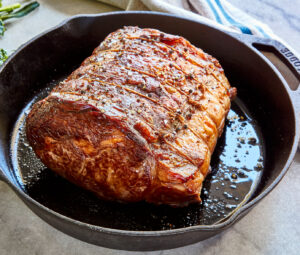 Gathering around the grill and eating outdoors is great on a warm day, but not when it's frigid or sizzling outside. Cooking steaks inside in an oven or stovetop skillet tends to be less demanding and more temperature controlled, but also has the smoke factor, which can leave your couch cushions smelling like ribeye for days.
Throwing your steaks in the oven is probably your easiest route and will let you focus on getting other parts of dinner handled or give you a few extra minutes to get ready for guests. The only caveat is that you'll need good thickness on your steaks — roasting works best with steaks that are 2" and up. You can cheat things a bit if you've got a 1.5" thick steak, but it's your best bet to roast thicker pieces. Just drop them on the center rack atop a sheet pan and that's pretty much it. Don't even worry about flipping the steak halfway through. Just set a timer and answer the bell.
Seasoning
When it comes to seasoning, less is more. Marinades, rubs and sauces can overpower or mask the distinctive flavor that Flannery Beef's proprietary dry aging process imparts to steaks. Our beef needs very little intervention, so exercise restraint for the best results. A heavy pinch of Kosher salt and fresh-ground black pepper before cooking is truly all our dry aged beef needs.
Pro Tips on How To Cook Great Steaks
We also asked a number of our top chef pals to share their secrets to cooking great steaks.
Before Cooking Steaks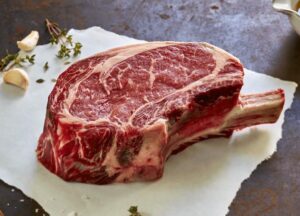 "Temper your meat, which means pulling it out of the fridge and letting it come to room temperature. Depending on the size of the steak that could be anywhere from 30 minutes to two hours… there isn't going to be as much of a contrast of temperatures. So it will cook a little bit faster, but it will also cook a lot more evenly." – Elisha Ben-Haim, American Gonzo Food Corporation Culinary Director
"Don't cook a cold steak. Pull the steaks out of your refrigerator and let them sit for anywhere from an hour to even more. If you're marinating, you can marinate on a countertop and let it stay at room temp for a long time. That way, you're gonna cook the steak, and it's gonna get to an internal temperature faster without creating a gray ring around the outside." – David Nayfeld, Che Fico, Che Fico Alimentari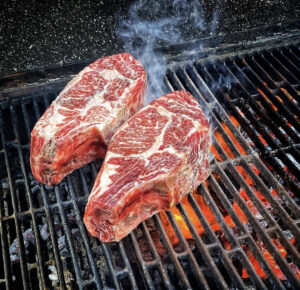 "I like to season my beef an hour or two before I'm cooking it so that some moisture can kind of come off and the flavor can penetrate." – Ari Kolender, Found Oyster, The Copper Room, Queen St. Raw Bar & Grill
"Take your time to get whatever you're cooking on properly hot enough to get good caramelization without overcharring the outside." – Kris Tominaga, Manuela
"Don't be afraid to use a hot pan and make smoke. It's really what creates the flavor. Just make sure you're either well ventilated, have a good fan, or can open a door or window." – Ari Kolender, Found Oyster, The Copper Room, Queen St. Raw Bar & Grill
While Cooking Steaks

"Get a good cast iron pan. Really high heat, a little bit of oil, hard sear on the outside. Take it out of the pan. Let it rest while it's still cold and raw in the center, but nice and crispy on the outside. Let the pan cool down to the temperature you want to cook it and start basting it from there." – Dave Beran, Pasjoli
"Cook it evenly. That means cooking at a really high temperature and flipping the meat over more times rather than not. A lot of times people will say, 'Put the meat on, cook it for 10 minutes, flip it over, cook it for another 10 minutes, take it off.' I would say cook it for two minutes, flip it, cook it for two minutes, flip it, then cook it for two minutes. The more time you cook it the more evenly it's going to cook and give you a nicer final product." – Elisha Ben-Haim, American Gonzo Food Corporation Culinary Director
After Cooking Steaks
"Resting is VERY important. If you cut into a steak that just got out of the pan all the juices will come out and you could get a dry piece of meat." – Kim Alter, Nightbird
"Let it rest really nicely. So somewhere between a quarter and half the time that it was on the grill, it should sit off the grill. You can cover with a piece of tin foil or if you're grilling it, put it back inside. Just somewhere where it stays a little bit warm. But you want to let the meat rest… By resting the steak, you're letting it relax a little bit so the leftover juices, or moisture that's left in the steak, isn't caught up in a very tense scenario with all the fibers that are in the meat. It relaxes it a little bit, and then when you slice into it, it doesn't lose moisture. It stays in the steak." – Elisha Ben-Haim, American Gonzo Food Corporation Culinary Director