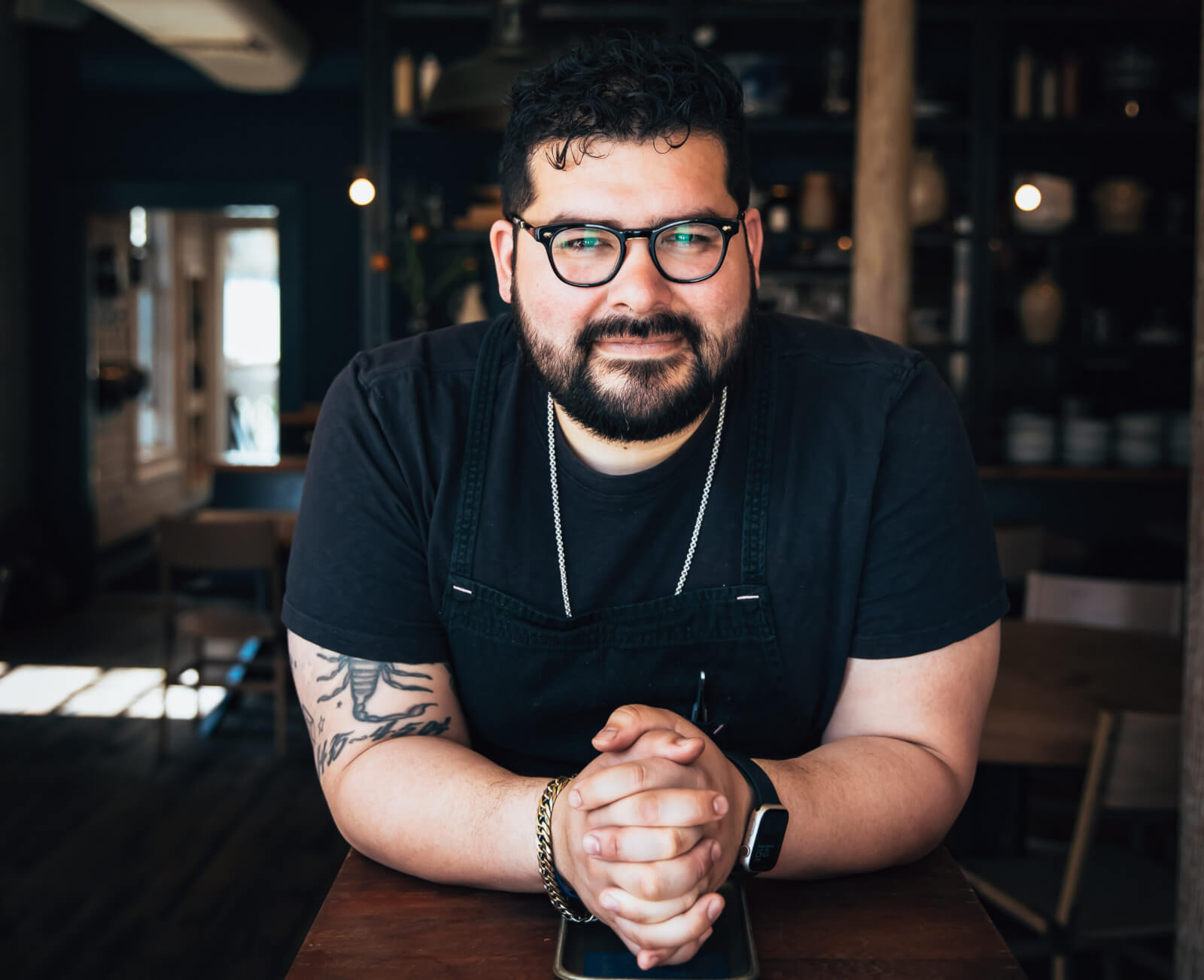 Chef Nico Pena grew up in Moreno Valley, the second largest city in California's Riverside County, and has dedicated his career to mastering California cuisine. He worked as Purchasing Manager at Lindsay and Michael Tusk's three well regarded restaurants in San Francisco's Jackson Square: Quince, Cotogna and Verjus. This allowed him to develop relationships with local farmers and ranchers. Pena also spent two years as Tartine Manufactory's executive chef.
He used to pass by Octavia on his commute. After the boards came down post pandemic, he jumped at the chance to work with Melissa Perello at her neighborhood restaurant that showcases the best possible ingredients, which are often local, including Flannery Beef. He's now been with Octavia for a bit over two years, beginning as chef de cuisine. Perello recently promoted him to executive chef where he's "fusing old world simplicity and modern techniques."
What makes Flannery Beef such a good fit for what you're doing at Octavia?
Flannery Beef is just a great company to work with. They've been in the Bay Area for so long, and a lot of what I really enjoy about working with certain producers up here is how far they go to make that product great. They use an unusual type of cow for their beef, Holstein, which is a dairy breed, but they like to use [Holstein steers] because of the marbling structure. And even though there's a little bit more bone to meat ratio, I really do believe it creates the best beef. I love what Katie's doing with her mold; I really think they do such a great job of continuing to research and understand their product to make it better. Featuring it here at Octavia just makes sense with them being so local and how much research and effort we put into sourcing. It matches how much effort and research they do.
What are some recent Flannery Beef preparations and can you describe your approach in each case?
We always have the Flannery Beef Jorge cut which is part of the ribeye closer to the chuck. That's usually like two and a half pounds. We serve it for two people. So it's a large format cut and we always dust it with our koji flour. We'll start in a pan and then we'll finish it on the grill. That's super delicious and always goes with a different sauce and two sides of vegetables.
One of the most exciting cuts we have right now from them is a zabuton, which is part of the shoulder. They just made this cut available and it's been absolutely incredible. We cook it low and slow for about 48 hours. We'll portion it from there and we glaze it with ramp and green almond glaze. Then it gets grilled. The first time we used Flannery Beef's zabuton was for our Mother's Day brunch, which we did with potato and eggs and really nice beef sauce.
What are the first three words that come to mind when you think of Flannery Beef?
Quality, precision, and flavor.
What is your favorite steak to eat and why?
I really like skirt steak. For me, texturally, it's delicious. It's very pleasing, and usually has a really good marbling of fat. And I just think it goes great with everything.
Generally, I like to grill it. Pretty typical, but I usually like to then brush it with a salsa, or even just with salsa verde. A nice fresh sauce like that with just parsley, capers, anchovy, garlic and lemon juice is always super delicious.
Which drink are you pairing with it?
I would probably do a Scribarita. Scribe Winery is a winery up here. They make verjus. And then you do ice with verjus and Mezcal.
What are some quick tips for nailing a perfect steak at home?
I would say the best thing to do is temper the steak, for sure. I always feel like that is the most important step that gets skipped. And I would say not to be afraid of color.