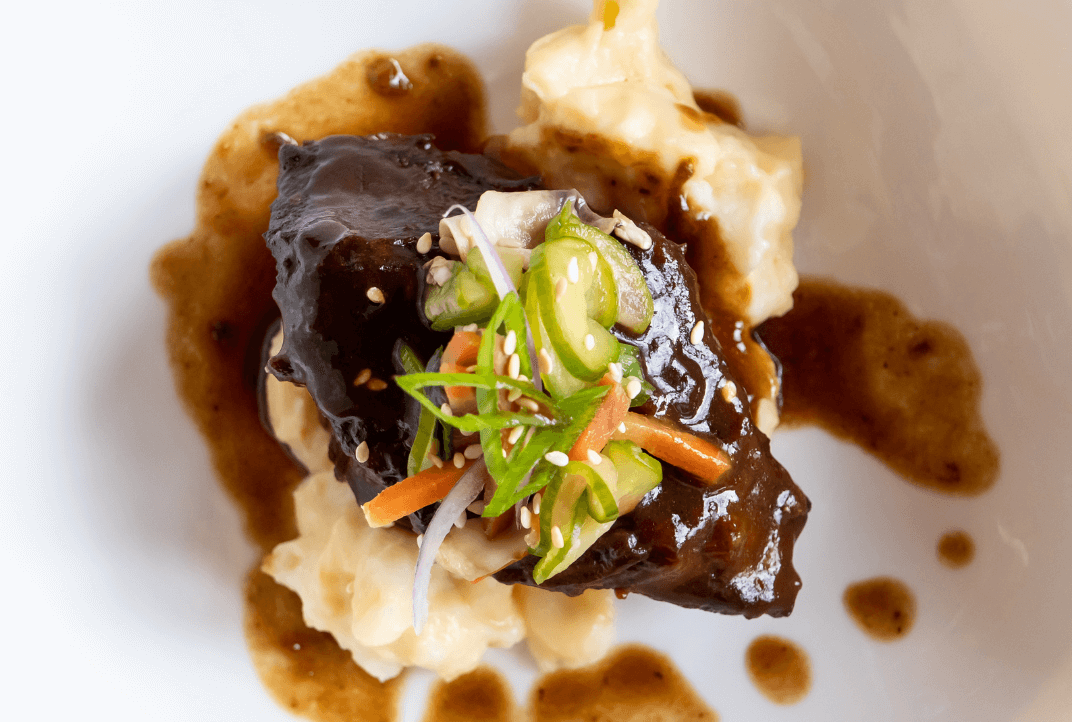 "Kalbi-style" refers to a specific style of preparing and marinating short ribs, often associated with Korean cuisine. Kalbi, also spelled galbi, are Korean beef short ribs that are typically marinated in a sweet and savory sauce before grilling.
Kalbi-style short ribs are usually cut thin across the bone. The marinade typically consists of ingredients such as soy sauce, sugar (often brown or white sugar), garlic, ginger, sesame oil, and sometimes fruits like pear or apple for sweetness. Match these flavors with our thin cut Flanken-Style Short Ribs. Once marinated, throw them on the grill, usually over an open flame or on a barbecue, which caramelizes the sugars in the marinade and imparts a smoky, sweet, and savory flavor to the meat.
But in this recipe, we toyed with the classic Kalbi marinade flavors and instead turned it into a rich, umami-packed braising broth for whole pieces of short rib. A can of cola replaces the brown sugar and doubles as added liquid that tenderizes and breaks down the beef into a pull-apart pile ready to shred onto tortillas or simply on top of rice. We chose the boneless chuck short ribs here, but you could also use this with bone-in English-style short ribs as well as our Zabuton.
Kalbi-Style Short Ribs
Ingredients
Flannery Beef California Reserve Boneless Chuck Short Ribs
2 Tbsp olive oil or grapeseed oil
1 onion, chopped
4 cloves of garlic, grated
2 Tbsp of ginger, grated
1 Asian pear (can use other pear varieties, or apple)
¼ cup mirin
1 cup soy sauce
1 orange, freshly juiced
1 can cola
3 cups water
Salt & pepper to taste
Instructions
1. Cut up the boneless chuck into large pieces (3 or 4 inches long). Liberally season them with salt and pepper. Allow short ribs to come to room temperature for about an hour. Preheat oven to 350.
2. Heat oil in a large pot (dutch oven) over high heat. Sear ribs until golden on all sides, about 2-4 minutes each side. Remove from pan and set aside.
3. Reduce heat to medium. Add chopped onion and a pinch of salt, and sauté for 2-3 minutes. Add minced garlic and ginger and cook a few minutes more until the onions are soft and translucent. Use a wooden spoon to scrape the bottom of the pan and incorporate all the caramelized bits from the seared meat.
4. Peel, core and grate the Asian pear directly into the pan. Add mirin and simmer for a minute. Pour in soy, orange juice, cola, and three cups of water.
5. Add ribs, bring to a boil over high heat. Cover and transfer pot to an oven and let braise until tender, at least 2 ½ -3 hours.
Ideas for serving
Leave pieces whole:
Serve over steamed rice with a side of kimchi or spicy pickled daikon
Spoon on top of couscous with gochujang-glazed and roasted carrots
Alongside garlic mashed potatoes and roasted Brussels sprouts
Make tacos: Remove beef from the liquid and shred with a fork. The reserved braising liquid can be very concentrated and intense with the soy, so use a spoonful at a time and taste along the if you prefer to use it as a sauce. Serve on corn tortillas with pickled daikon, pickled onion, or spicy pickled carrot and fresh cilantro. Leftovers are delicious in a rich and crispy cheese quesadilla.