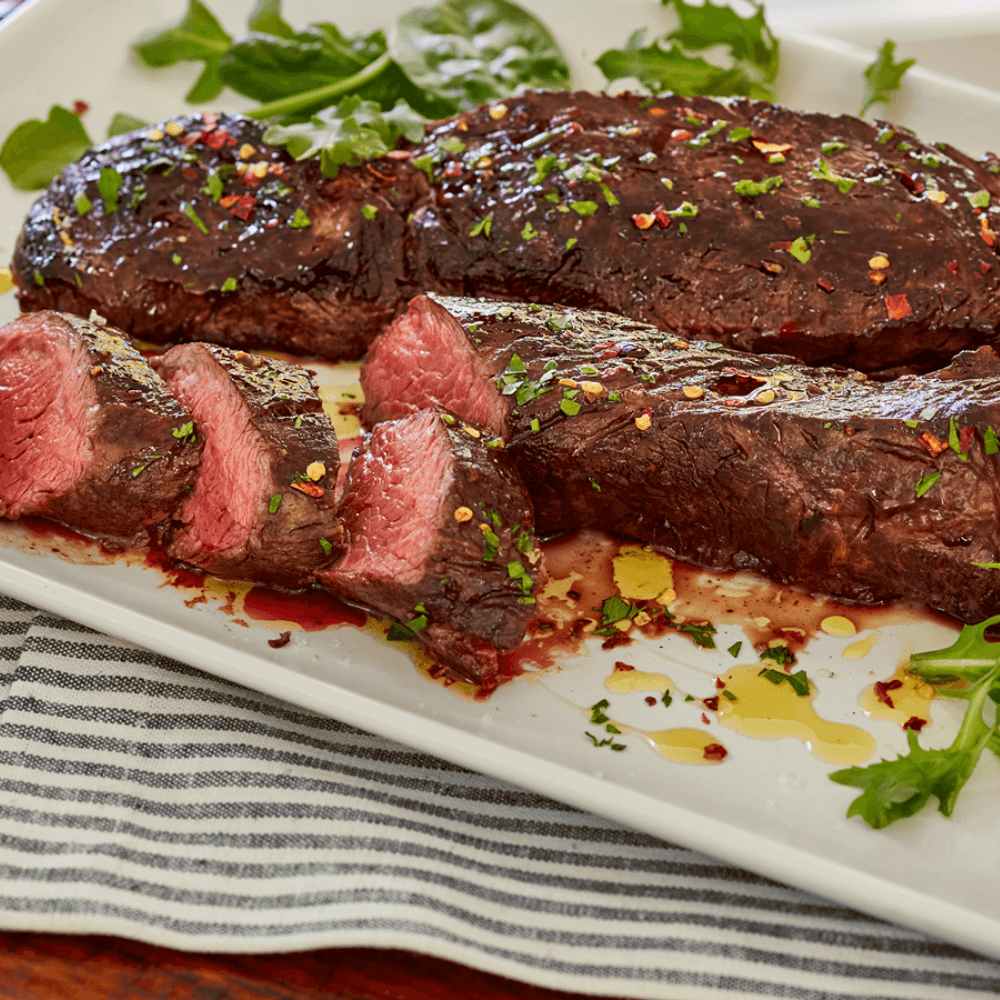 Hanger Steak with Chimichurri
No matter how trendy the cut becomes, hanger is more affordable than rib-eyes, strips and filets — and it's always more flavorful. All the extra fat that a hanger steak contains really mellows out any kind of gamey iron flavor that you might associate with hanger. You don't need much to dress it up, but we love it with an herbaceous and zingy chimichurri. Important to note, a hanger steak is one of the few cuts of beef we'd recommend cooking above medium-rare — it's excellent in terms of texture when cooked to medium+.
Flannery Hanger with Chimichurri
1 small shallot, minced
1 fresh chile, seeds removed and minced (i.e., Serrano, Jalapeno, Fresno)
2-3 garlic cloves, minced
¼ c red wine vinegar
1 tsp salt
1 Tbsp fresh oregano, chopped (or 1 tsp if dried)
2 Tbsp fresh parsley, chopped
1 Tbsp fresh cilantro, chopped
½ c olive oil
In a medium bowl, whisk together shallot, chile, garlic, red wine vinegar and salt. Add fresh herbs, whisk in olive oil.
Transfer half of the sauce to a small bowl for serving, using the rest to marinate the meat, if desired (cover and chill at least 3 hours).
Remove steak from marinade and pat dry. Allow the beef to come to room temperature for at least an hour. Grill over medium-high. Alternatively, sear in a cast iron skillet over high heat.
Cook steak about 5 minutes each side or until desired doneness is reached. Let meat rest 5 minutes, then slice. Spoon reserved chimichurri over grilled meat and serve.