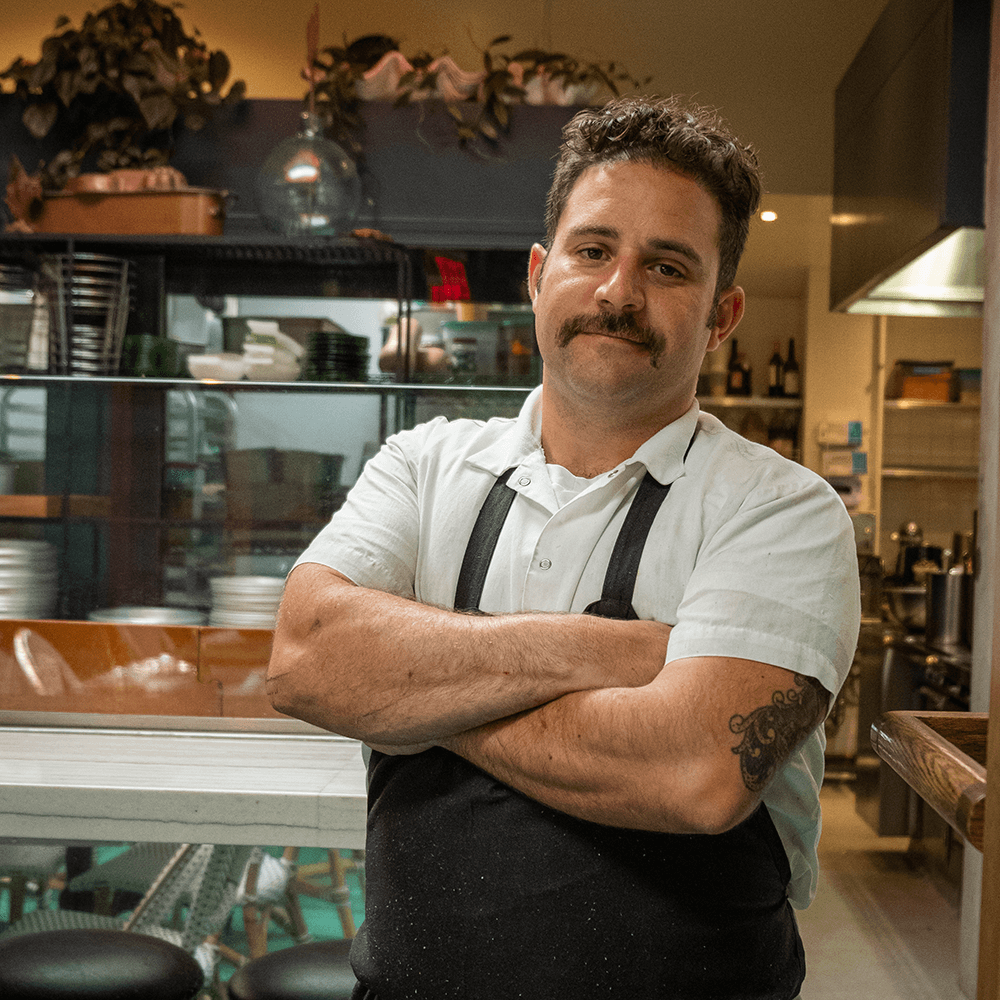 After Jerusalem native Elisha Ben-Haim finished serving in the Israeli Army, he moved to the U.S. to cook professionally. He started in Vail, Colorado, and attended the prestigious Culinary Institute of America, graduating at the top of his class. He worked at revered restaurants like Le Bernardin and Del Posto in New York City, Michelin 3-star Martín Berrasategui in San Sebastian, Spain, and for Jamie Bissonnette at Toro in Boston and New York City. He moved to Los Angeles to be closer to family and join Geoffrey Zakarian on Georgie's opening team in Beverly Hills.
In 2018, he signed on with American Gonzo Food Corporation as Executive Chef for American Beauty, a modern steakhouse in Venice. He was inspired by the "challenge of opening a restaurant and being part of conceptualizing the business as a concept, but also wanting to play with fire." He also helped to develop The Win~Dow, a fast casual smash burger concept that now has three locations, including at American Beauty, that has become integral to the business. In 2022, American Gonzo promoted him to Culinary Director. He now oversees culinary programs for American Beauty, The Win~Dow and Superba.
At American Beauty, Ben-Haim curates a menu that "showcases the wide range of beef, seafood and farmers market vegetables available in Southern California." Steak is the star protein, with six different cuts of varying ages grilled over almond wood to deliver unique experiences. American Beauty's menu currently features two Prime steaks from Flannery Beef.
American Beauty's menu currently features a 15-day dry aged Ribeye and a 30-day dry aged Porterhouse. What do you like about showcasing two different age levels?
We're a relatively small restaurant and have a very small kitchen and storage space, so we had to be very thoughtful in how we built our meat program. The goal is to offer steaks at several different price tiers, but also different experiential steaks… Our goal at American Beauty is to be able to really offer an experience to guests of all ages and of all different financial backgrounds.
Porterhouse is a combination of a New York and Filet, and having a 30-day dry age is a completely different experience. Then there's the fact that it's a Flannery steak, superior to most other steaks here in Los and Los Angeles or California.
The quality of the meat that Flannery brings in and decides to work with and then the aging process enhances that meat to the nth degree.
When it comes to the higher quality or more prized cuts of meat, I'm really happy that we're using Flannery and able to showcase them.
How would you differentiate the experience for the 15-day dry aged Ribeye versus the 30-day dry aged Porterhouse?
The Ribeye is our number one selling steak, and it's great. I love working with Flannery. We have a very special relationship with Katie and Bryan… The fact that they're using Holstein cattle works for us, just based on the spec and the size of the primals that they get. They're just a little bit smaller, a little more stout… It's a 14-ounce Ribeye, but it's still a one-inch steak, so it's nice and thick. I can really char and cook it up nicely where in other restaurants, you might need to make a 16-ounce, 18-ounce or 20-ounce chunk of meat, for it to really be able to be charred and cooked beautifully. It's an individual steak – obviously, you can share it with somebody – but it's also one where if you're really into meat or you're really hungry, you can definitely eat it and be satiated. For us, we can execute it to our best ability because it's thick enough to get charred nicely, but still be a beautiful medium rare or rare or medium, however the guest wants.
Porterhouse, I would consider a special occasion steak, just starting with the price point. But it's also a really big chunk of meat, 32 ounces. There's a bone in there, but it's still probably 20, 22 ounces of meat… New York is obviously fattier than the tenderloin. It really cooks up nicely, and then the tenderloin. It's a nice portion that really allows us to feature dry aged filet. If you're not getting it on the Porterhouse, you might get it on the T-bone, but normally they're really small. Dry aged filets, they're not that common. There'd be a lot of loss there. 
It's great to be able to offer two special steaks and a really fun experience for our guests. Age, flavor wise, 30-day is obviously aged longer, so a little more robust blue cheese and umami flavor, but honestly our 15-day dry aged Ribeyes, they're really aged nicely as well.
What makes Flannery Beef such a good fit for American Beauty?
The quality of the meat that they pick and curate, and then the aging process.
We're taking pride in being able to feature Flannery, because l love their meat. These are the best dry agers here on the West Coast

.
It's awesome to see how our guests respond and enjoy their meat as well. 
Steakhouses normally, they'll call out the grading level of the meat, if it's Prime, if it's Choice or if they have Wagyu, 5A, 4A, whatever. They don't necessarily list the provenance, where it's coming from, the vendor, the butcher shop, the butchers, whatever it is, and we take pride in letting our guests know we've gone the extra mile, we pay the extra penny, to make sure that the product we're getting is consistent and something that we're really happy for them to enjoy and we're sure that they will enjoy.
What are the first three words that come to mind when you think of Flannery beef?
Awesome, Katie and Bryan.
What is your favorite steak to eat and why?
It varies, depending on the circumstances and the temperature outside and the weather. You know, who are you eating with? It's kind of a loaded question. I mean, I really love Flannery's dry aged Ribeye. There are restaurants and chefs who dry age their meat for 100 days, and I tend to find that dry aging level is a little too funky for me. I like tasting the meat. I don't like to taste a lot of blue cheese and funk with a little bit of steak. I like pieces of steak and I think our Ribeye really hits it on the nose. It's a great cut of meat and it's really fun to eat. The Ribeye is probably my go to, but it really depends. If it's a sunny day outside and we're grilling out with people, it may be a flank steak or skirt steak.
What drink are you pairing with the Ribeye?
I used to live in Spain, so anytime I have an opportunity to drink a nice Spanish red wine, something from La Rioja, nice Tempranillo Rioja Reserva wines, I like those. Spanish wine as a whole is underrated, I think, in the wine world. You also get a little more value there. I feel like the tannins can definitely stand up to a nice heavy steak, but it's also not like getting punched in the face with a really big French or California Cabernet.
What are some quick tips for nailing a perfect steak at home?
1) Tempering your meat, which means pulling it out of the fridge and letting it come to room temperature. Depending on the size of the steak that could be anywhere from 30 minutes to two hours. Whether it's a giant two-inch Porterhouse, like a two-inch-thick cut Porterhouse or Ribeye and pull it out for an hour and a half, two hours before. 
While you're cooking the outside, the inside is slowly heating up, but there isn't going to be as much of a contrast of temperatures. So it will cook a little bit faster, but it will also cook a lot more evenly. So while the outside gets a nice char, the inside isn't raw still. It's starting to cook.
2) Seasoning it really well with a lot of salt. If it's a really thick cut of meat, you could season it even the night before, maybe a little less salt, but a longer time.
3) Cooking it evenly.
That means cooking at a really high temperature and flipping the meat over more times rather than not

.
A lot of times people will say, "Put the meat on, cook it for 10 minutes, flip it over, cook it for another 10 minutes, take it off." I would say cook it for two minutes, flip it, cook it for two minutes, flip it, then cook it for two minutes. The more times you flip it, the more evenly it's going to cook and give you a nicer final product. 
4) Let it rest really nicely. So somewhere between a quarter and half the time that it was on the grill, it should sit off the grill. You can cover with a piece of tin foil or if you're grilling it, put it back inside. Just somewhere where it stays a little bit warm. But you want to let the meat rest. 
If you imagine a steak's fibers, when you cook meat – it's just like if you were hot and went outside wearing a short sleeve shirt, and now your skin gets really tight and a little goose bumpy – similar thing. When you take a steak and throw it on a hot grill, it's an extreme contrast to what it was and you're almost like wringing a wet towel. By resting the steak, you're letting it relax a little bit so the leftover juices, or moisture that's left in the steak, isn't caught up in a very tense scenario with all the fibers that are in the meat. It relaxes it a little bit, and then when you slice into it, it doesn't lose moisture. It stays in the steak.