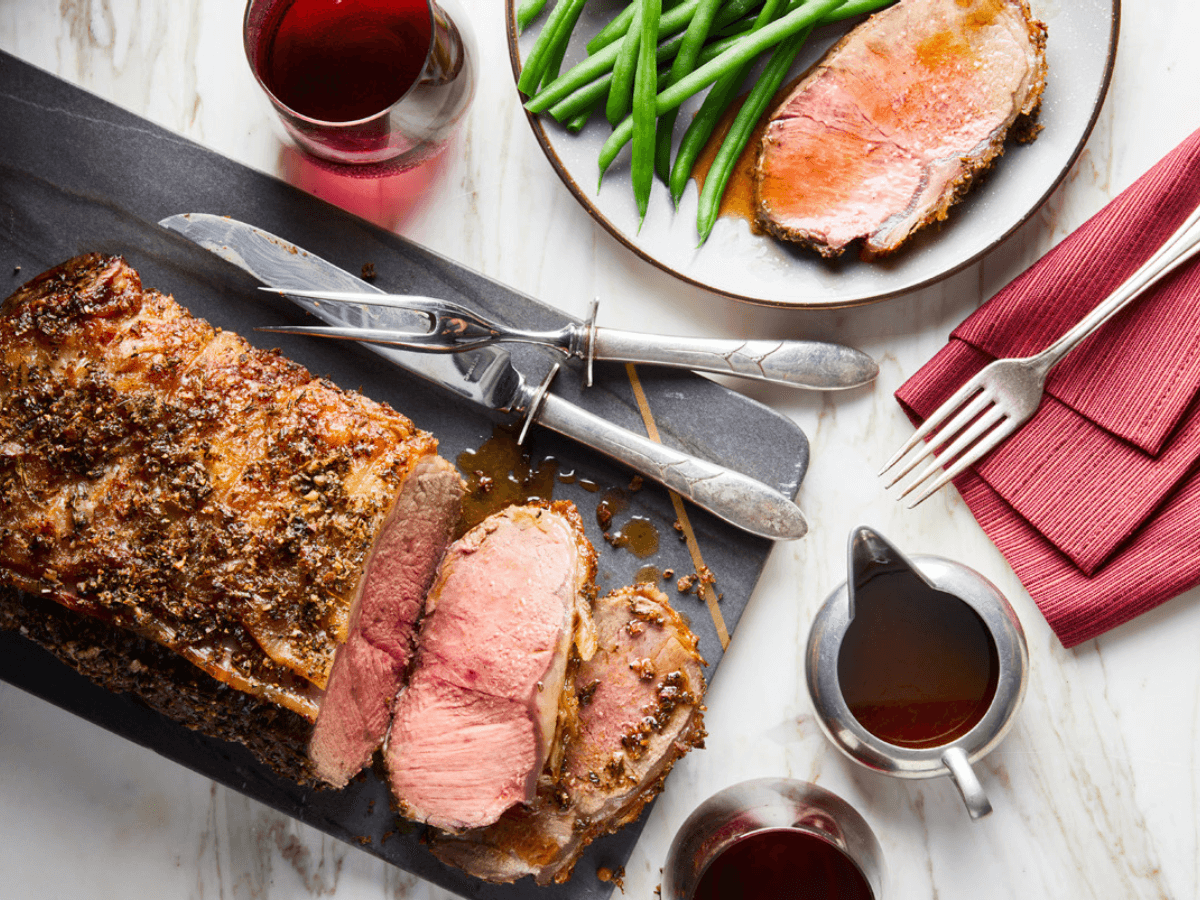 Dry Aged Club Roast with Garlic, Herbs, and Beef Jus
This dry-aged club roast, also known as a New York Strip Loin, is incredibly easy to prepare. Dry aging combines deep beefiness with marvelous tenderness. All that's needed is garlic, herbs, stock, salt, and pepper. Serve it alongside a luscious potato gratin and simply dressed greens like haricot vert.
This article first appeared in Fine Cooking magazine, December 2021
Dry Aged Club Roast with Garlic, Herbs, and Beef Jus
SERVES 10 TO 12
Ingredients
4 cloves garlic, minced
2 Tbs. fresh rosemary, finely chopped
2 Tbs. fresh thyme, finely chopped
2 Tbs. red wine vinegar
1 Tbs. olive oil
1 to 2 Tbs. kosher salt
1 Tbs. freshly ground black pepper
4 lbs. dry aged beef club roast
1 cup beef broth
Directions
In a small bowl, combine the garlic, rosemary, thyme, vinegar, olive oil, salt, and pepper.
Pat the meat dry with paper towels. Rub the meat all over with the garlic and herb mixture. Place the beef fat-side up on a wire rack set in a rimmed baking sheet or in a roasting pan fitted with a rack. Chill at least 3 hours.
Let the beef stand at room temperature 1 hour before roasting. Preheat the oven to 450°F. Place the beef, fat-side up, on the rack in the roasting pan. Roast for 15 minutes. Reduce the oven temperature to 350°F. Roast until an instant-read thermometer inserted into thickest part of meat registers 130°F for medium-rare, about 25 minutes (or 140°F for medium, about 30 minutes).
Remove from the oven and transfer the beef on the rack onto a cutting board. Let stand at least 10 minutes.
In a small saucepan, bring the beef broth to a boil. Reduce the heat, and and let simmer until reduced slightly. Cut beef into 1/3-inch-thick slices and arrange on a platter. Pour any juices and herbs or collected browned bits that remain from carving into the saucepan. Spoon the beef jus over the carved meat and serve at once.