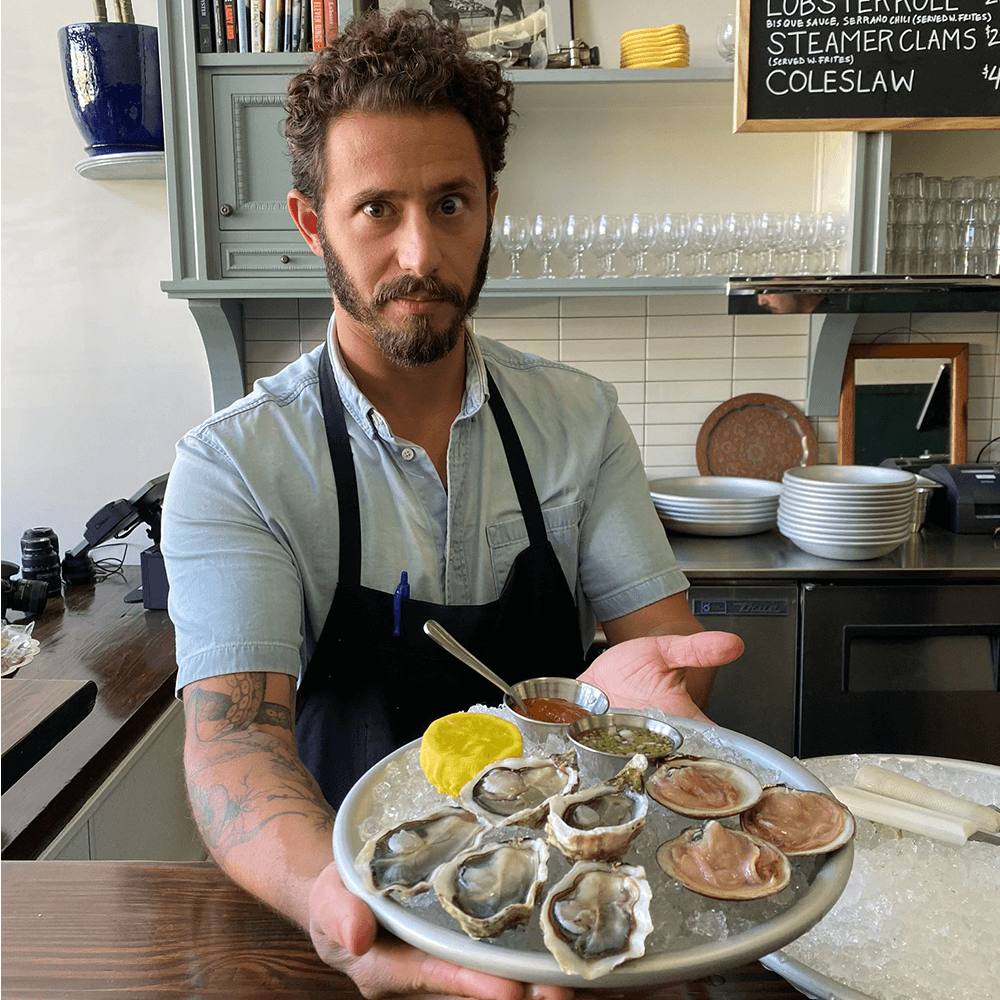 Charleston native Ari Kolender who worked at top hometown restaurants like The Ordinary and Leon's Fine Poultry & Oyster Shop and L.A. seafood destination Providence before taking a more entrepreneurial path. At Hayden, the first L.A. restaurant he co-founded, he brought in Last Word Hospitality co-founders Adam Weisblatt and Holly Fox to consult on operations. They hit it off, and after Hayden closed, they decided to work together in a bigger capacity. They teamed on Found Oyster in East Hollywood and The Copper Room in Yucca Valley. They're also getting ready to open Queen St. Raw Bar & Grill in Eagle Rock, partially inspired by his South Carolina Lowcountry upbringing. Kolender has become synonymous with seafood and is even writing a fish cookbook, but he's versatile. He's showcased Flannery Beef since his Hayden days and discussed his steak and burger preferences.
How did you discover Flannery Beef? And what makes them such a good fit for what you're doing at Found Oyster and The Copper Room?
I originally found them through Jeremy Fox. The reason that I've stuck with them is that it's high flavor, commitment to quality product. And it's a family run business, which for us, makes all the difference. We work with fishermen and farmers. So rather than using a large meat purveyor, we can really work with someone who's touching the product.
You currently have the bar steak on the menu at Found Oyster. You also offer a steak tartare burger special with onion rings. 
We always have a little trim when we're portioning steaks. Sometimes it goes to family meals. Sometimes we will cut it into little skewers and send it out to people. I kind of just came to the conclusion that the trim is just as valuable, just as good of a product as the actual steak itself. So we should cut it, treat it as such, and make tartare. Joe Laraja, my partner, has been asking me to put onion rings on the menu since we first opened. I use a lot of fried shallots, so making our own crispy onion rings sounded great. And then I thought, rather than toast, using a Martin's burger bun seems like a perfect combo. It usually makes it on the specials board three or four nights a week.
At The Copper Room, you also serve a Flannery Beef hamburger.
That burger is a really fun one too. It's very, very tasty. It's kind of non traditional in the sense that you can add cheese, but it's not just a normal cheeseburger. We make a savory mayo that has nutritional yeast and a lot of black pepper in it. It gives it this really kind of cheesy quality to the mayonnaise. And then just a nice fat slice of tomato, a little lettuce, it's a very umami rich burger.
Can you tell us about your decision to go with Flannery Beef's Hanger as your preferred cut?
I've used their New York and their Ribeye and it's all fantastic. For places like Found Oyster and The Copper Room, we're trying to keep our threshold of price to a certain point, so Hanger just works perfectly. It's an easy cut. It's tender. It's kind of the perfect fit there. As we move forward with Queen St., we're looking forward to digging into some bigger cuts like a Ribeye or New York.
What are the first three words that come to mind when you think of Flannery Beef?
High-flavor, quality and family.
What's your favorite steak to eat and why?
I'm a New York guy. I love a well marbled piece of New York just texturally. And I just like getting a nice solid sear on that kind of meat. I think it's the most flavorful. I pretty much will eat any steak, but if I have to choose I'm always going with New York.
Which drink are you pairing with it?
It depends on the evening, but most likely either a martini or a great Nebbiolo.
What are some quick tips for nailing a perfect steak at home?
I like to season my beef an hour or two before I'm cooking it so that some moisture can kind of come off and the flavor can penetrate.
One of the biggest things is to just not be afraid to use a hot pan and make smoke. It's really what creates the flavor. Just make sure you're either well ventilated, or have a good fan or open a door or window.
The other thing that I would say is that anytime I cook steak, whether it's at the restaurant, or at home, I'm always using a cast iron pan. I think it's the best vessel for just getting a great crust.