Born and raised in San Francisco, I've been immersed in the meat business since I was old enough to handle a broom and sweep the floors in the family meat market. My Dad, Bryan Sr., established Bryans Quality Meats within an independent grocery store on California Street in San Francisco in 1963; a business still in operation and now run by my brothers Peter and Terry.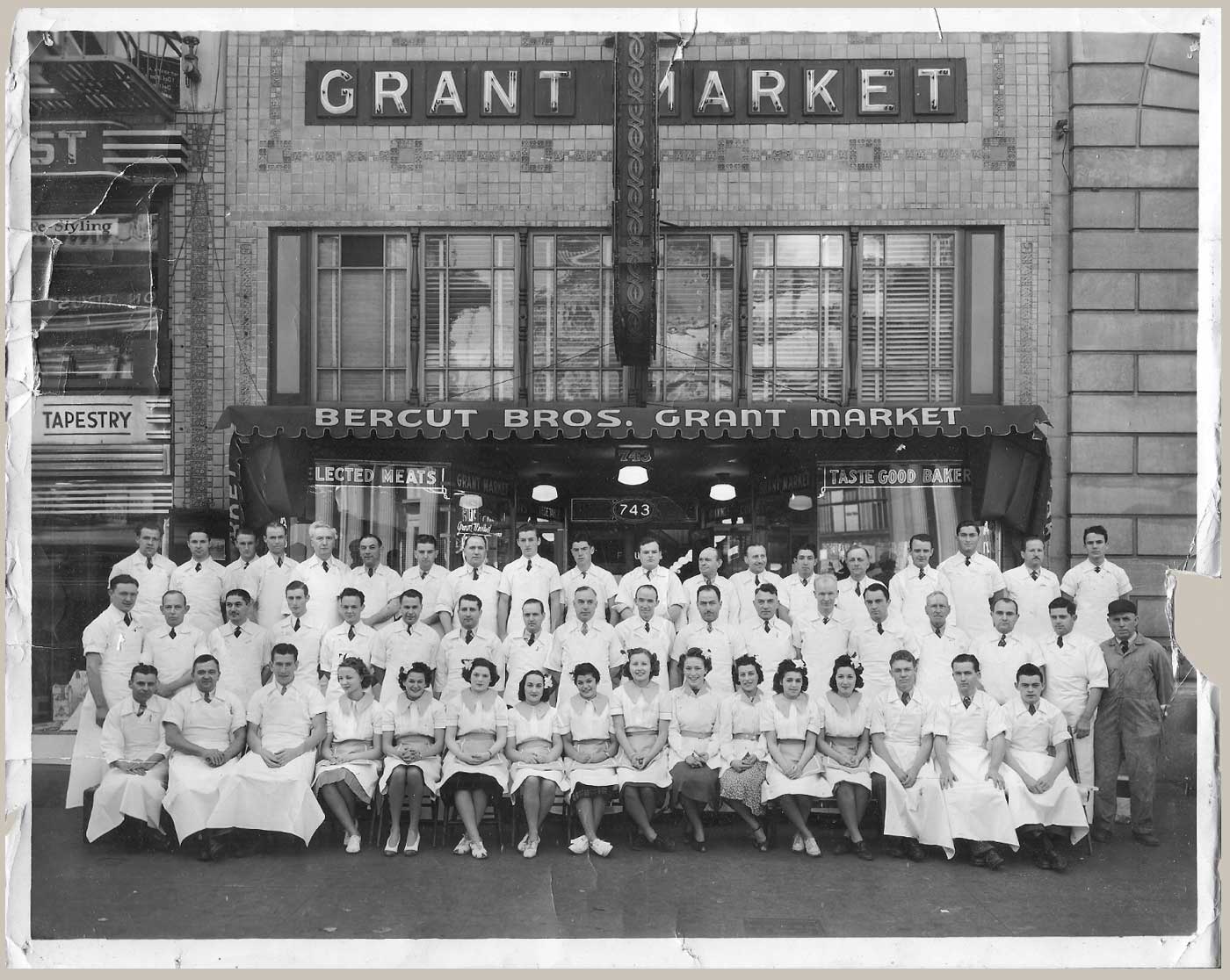 My dad built both Bryans Quality Meats and his reputation on quality and unsurpassed customer service, becoming known as the best butcher in the west. Prior to opening his own business, he managed and expanded a landmark San Francisco meat store to the level that it employed 80 butchers producing and selling nothing but meat — no fish, no chicken, just meat.
It was actually during this period and right after we opened our store that I got involved in the potential of taking something to another level by virtue of accompanying him on trips to select the beef to purchase. Back in those days, you could actually go to the beef production facility and wander up and down rows of sides of beef from the prior day's production and choose the ones you wished to purchase (I'd give my eye teeth for that today). Beef was selected probably 75% by looking for specific markers, and 25% in a tactile sense by feeling for confirmation of shape and fat. To facilitate this, the beef would be partially cut so that you could see the eye at the juncture of the rib and the loin, which makes it relatively easy to select. Plus, it would have been graded by then, and one could zero in on specifically the prime level. Just like today, prime beef only made up a small percentage of total production (I would guess maybe 10-15 per 100) but different from today, didn't carry a price premium. So competition for the first pick meant that you had to beat all the other buyers to the site.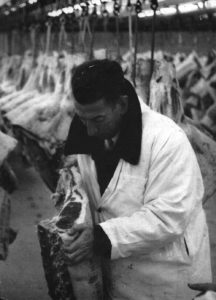 Dad got in a bit of competition with a few other butchers in the area, and soon we were showing up at the facility at 6 a.m., then 5 a.m., then 4 a.m. One of these early mornings, the other buyers had beaten us there and were already inside ahead of us. Dad took one look at that group, veered off course, and had me follow him up a side staircase to an upper level of the facility where that day's production was in process. The beef in this section of the plant hadn't been graded yet, and buyers rarely had the knowledge to be able to pick out the prime from the choice. But Dad walked through the place and proceeded to select some 15 head of cattle relying on maybe 10% visual and 90% touch and feel. When done, he said we would have to wait for an additional hour to confirm his choices. When the grading process was done by the USDA grader, an astonishing 13 of the 15 were designated as Prime…..and he wanted to argue with the grader about the other two.
He actually became somewhat of a celebrity with a whole cadre of the day's movie stars either coming up to San Francisco to purchase the meat or having him send it to them in Hollywood by train. Alfred Hitchcock, Vincent Price, and Raymond Burr were among them. Robert O'Dell, the founder of the Biltmore hotel chain, would fly him once a month to Los Angeles to select the Prime Ribs and New Yorks for the company's many kitchens.
But times change, and it is no longer possible to select your own beef; you pretty much have to rely on the producer and hope for the best. But I never lost that memory of going up to that higher level (how's that for a metaphor), and that's probably the main reason I separated from the family (who by the way have upheld the reputation as the best in the west) and launched Flannery Beef. At times, I think there might be a second reason… temporary insanity.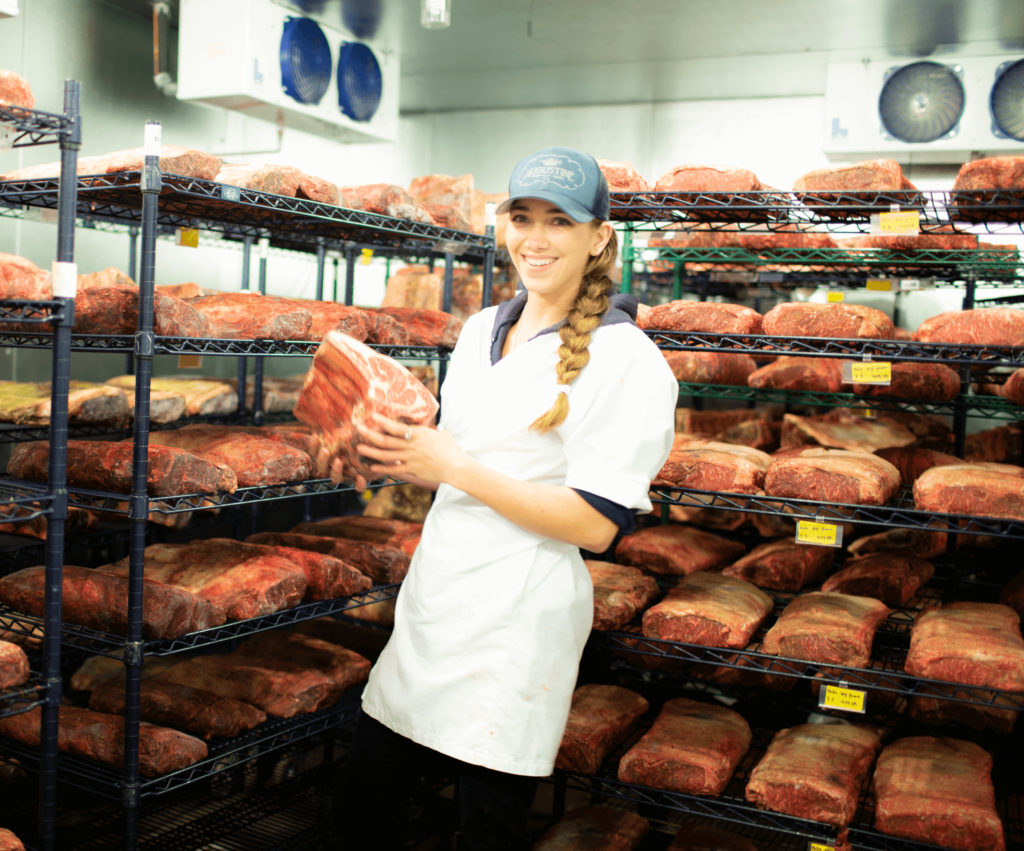 Fortunately, an antidote appeared on the scene sometime around 2010 when my middle daughter decided she liked the business and came on board full-time. Katie had always been involved from time to time throughout the year (holidays in a family business are "all hands on deck"), but that year she became interested in the e-commerce side of it and began to tweak the website. Before I knew it, she had taken full control of it and put us in a new direction — one that needed her to really understand the nuances of the production side of things.
Typical her, she jumped in with both feet; learned just about everything I could show her, then pivoted to the science side of the process. She began reaching out to various scientists at a number of agriculture-focused universities and was able to apply science to everything I was making up. OK, not really making up, but was a result of intuition formed over a number of years; but nothing I could prove. She has one by one confirmed that most of my wacky ideas have a basis in fact — who knew?
So all's well that progresses well. Drawing on the knowledge and work ethic passed down to me by my Dad and through me to Katie, we now have a 100% increase in people working tirelessly to ensure that we're providing the highest level of products available anywhere — again, as in anywhere.
We both have flown all over the country looking for quality suppliers and seeking out experts in the field to help us improve what we are doing and will continue to do so. When we find what we want, I'll pay a premium to get it, age it to perfection, then ship it with total confidence that Katie and company can do no better; although we'll not give up trying.
Thanks for your time,
Bryan